In Southern New England You Deserve World Class Technology Support
Is your current technology unreliable? Is your IT support flaky and frustrating? Let's make an appointment. It's time you got the level of support your business deserves.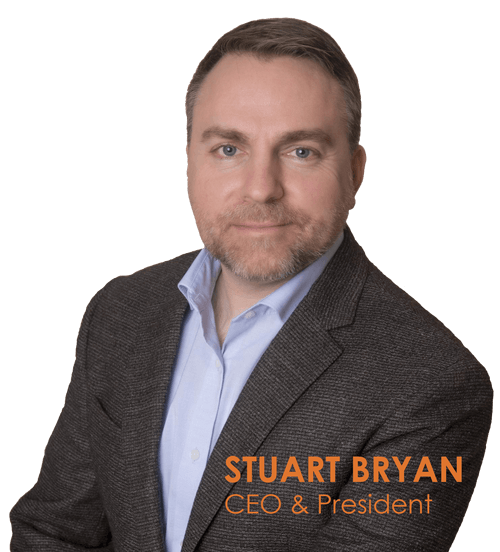 Do You Know Good IT When You See It?
It's difficult to shop for IT support when all you've
experienced is disappointment and frustration.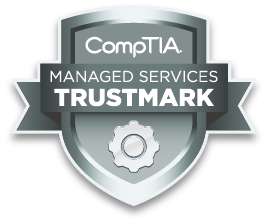 What Our Clients Say About I-M Technology
Wants Our Business to Thrive

We've been a client of I-M Technology since 2008. In that time, Stuart and his team have become an invaluable resource to the on-going operations at our multiple locations. Hardware, software and peripheral upgrades, as well as wireless solutions and installations, may be things we all take for granted from our IT professionals, (as we should), and I-M does not disappoint in making all this feel seamless. Stuart takes it to the next level with what we like to think of as "an ounce of prevention". Our network has never been more secure, automated backups and support are done remotely, and when an on-site support visit is needed, I-M's support team is extremely knowledgeable, professional and courteous. Whether we log a support ticket through their on-line portal or call their office directly, support response is quite immediate.

What really sets I-M Technology apart from the rest is Stuart's business philosophy. He not only wants our IT business, but he wants our business to thrive. He is continually helping us to be proactive in our own search for ways to streamline operations, add new levels of technology or update a current process to best practices. His annual gift of a business self-improvement book does not go unappreciated either.

Prior to our engagement with I-M, we always felt the need to be involved in every aspect of computer support. Since bringing I-M onboard, we have been able to delegate all but the highest-level decision making, freeing our time up for other areas of our business where our attention is essential for our continued growth and success.

We highly recommend taking an opportunity to speak with Stuart regarding what I-M can do for your company. You won't regret it!
Shipyard
Takes the Risk Out of IT

Before we partnered with I-M Technology in 2017, our IT was scattered and not working for us. We had multiple servers that could not handle the load, a phone system that was not well integrated between our sales team and internal staff and a Microsoft Office implementation that was not consistent across our workstations.

I-M Technology has helped us unify our technology across the business. Our phone system is now unified and consistent for everyone, and Microsoft Office now has reliable roll outs. Our servers now handle the workload more efficiently because I-M Technology has helped us implement better lifecycle management of our IT assets. This makes our budgeting easier and predictable, ultimately cutting costs in the long run and ensuring that our hardware is always most effective.

One unexpected benefit of working with I-M Technology is that they interface with our technology vendors for us, taking that task off our plate and letting us do our jobs, making I-M more of a trusted advisor in technology, and not just another vendor.

All in all, I-M Technology has taken the risk out of our IT stack. We don't have to worry about it like before. Our offices are unified and productive so we can focus on growing the business and not the IT. In fact, we recently finalized the acquisition of another marina and I-M Technology is making the integrations of those operations seamless and secure as well.

I would recommend I-M Technology to anyone else in the marine industry who wants to take the anxiety out of IT by working with a local technology partner who understands our industry.
Marina
Helped Us Take That Next Step in Our Own Evolution

The way that we do business is constantly evolving, and as we look for ways to become more efficient, our dependency on technology grows. As the owner of a small business, I was our company's primary IT department. Every issue that we incurred, meant not only down time for my business or my employee, but for me as well.

Partnering with I-M Technology has given my employees the training and tools they needed to get IT issues resolved quickly and efficiency but most importantly, without the need to involve me. This has not only provided me with more time to do what I need to do to grow my business, but has also provided me with a huge sense of relief and peace of mind knowing that if I am out the office and there is an issue, it will be handled and handled correctly.

Since partnering with I-M Tech, the systems that have been put into place for cyber security, data loss prevention, software and hardware support, has not only helped my company operate more efficiently, but has helped us take that next step in our own evolution.
Manufacturer
Did Not Blink at Onerous Requirements

As a small and growing business we have enough plates spinning and complying with the new DFARS Cyber requirements was onerous at best. When other IT outsourcing firms shrugged and turned away, Stuart did not blink. He and his team have effectively removed this plate and allowed us to focus on what we do best.

Stuart and his team are honest and upfront. Our business and IT infrastructure had grown organically over the previous 20 years; IM reviewed and developed a plan to put the foundation in place from which we can grow over the next 20 years.

IM is a partner with a support model I agree with. Their fixed fee model clearly incents them to create a system with as few problems as possible.

I would certainly recommend IM as a partner for small to medium sized companies, particularly those transitioning from one to the next…
Defense Contractor
You guys are awesome. I wish we used your services more, but things are running smoothly. It's a credit to the work you've done so far. We look at you like an insurance policy we get something back for.
Defense Contractor
Saving Time and Protecting Data!

We had done some price comparing before signing on with I-M Technology, LLC. While others were a little cheaper, I-M Technology's services were much broader and would save us money in the long run. One example is how I can have I-M Tech spend the time talking with technical support to solve problems with the software programs we use. That saves a huge amount of time and headaches for me and my staff so we can spend our time doing our jobs.

The thought of losing our data or having it compromised is frightening. If that happened it would seriously affect our ability to serve our clients, prevent us from providing quality care to our patients, and would cost our business time and money. Having a professional make sure we are protected in multiple ways is not only a comfort but a necessity.
Veterinary Clinic
Dream Come True Service!

Monthly maintenance costs from I-M Technology, LLC have been higher than with our previous IT service provider but their service is far, far superior, both in quality and scope. The professional and personable service technicians at I-M Tech are all competent and efficient, responding quickly, avoiding wasted time for my staff. I-M Tech service includes advice and support for all our electronic systems AND they will contact our software vendors' support staffs for us when there is a problem. This level of service has freed up my people to spend more time on the work of caring for patients and improving the efficiency and profitability of the practice.

As it turns out, my IT costs with I-M Tech have not been significantly different than with our previous provider because they charged me an hourly rate for on-site support which discouraged me from asking them for help when I really needed it, incentivized onsite repairs and led to unpredictable additional charges, above the monthly rate.

With I-M Tech I now have dream-come-true support with no fear of additional charges, and no hesitation about calling for help when we need it.
Healthcare Provider
Moves, Adds and Changes!

Our office went through an intensive system upgrade as well as moving to a new location in 2010. During this time I-M Technology came on board and has been instrumental in all key phases of our projects. From implementing a multi-location EMR system to mapping out infrastructure in our new location I-M Technology was present.

The staff at I-M Technology has been a call away no matter the problem. The way they are able to dial into any unit at the first mention of a problem has been a wonderful time saver. Most problems are able to be corrected within a few moments. Being able to submit problem tickets on line also allows for staff to continue on with office work. There is no lost time waiting on hold or attempting to work with the tech to troubleshoot the problem. They can just go straight to the problem and fix it with little to no disruption to the staff.

Stuart Bryan continues to be available to answer any questions or find solutions to any concerns that arise. After working with Mr. Bryan over the past five years I know whenever an upgrade presents itself in the office he is the first and only individual I need to turn to to see the project done in a proper and efficient manner.

After five years of IT projects I know that by bringing I-M Technology on board allowed the project implementation to run on time and with minimal disruption to the working of our office.

In closing I would like to say having I-M Technology work with us is a decision I have never regretted. I know when the time comes in the future for any type of system upgrade I-M Technology will be the first ones I call.
Healthcare Provider
You Get What You Pay For

This may come as a shock to you but I know nothing about computers. I firmly believe that when you hire a company to perform a service whereby you are not only relying on their product but also their expertise you must be very careful not to do the knee jerk thing and go for the cheapest. Our computers are essential to what we do every day and I have to believe it is the same way for most companies these days. We don't function without them. We rely on I-M Technology to be there for all the hard questions and fixes and all the easy ones too.

All of the I-M Tech staff are accessible, extremely competent and professional and my down time when something goes wrong, which costs me money, is very short. That has to be a part of any company's bottom line when hiring an IT company.

Peace of mind does too. It is worth it for me to pay I-M Tech to do all the monitoring, backups, security, etc. It is very important to the health of my business and if I don't have to worry about it then I can concentrate on my clients and my practice and not on my office technology.
Law Office
Thorough, Friendly and Professional

Stuart and I-M Technology have served and protected the information technology needs [here] for over 12 years. As the Finance Director of this small non-profit agency I am responsible for several administrative roles, with IT as one of my greatest areas of concern. Knowing that the IMT team is managing our computer systems gives me great peace of mind. IMT monitors and updates our server, computers and laptops; alerts us to potential risks; and provides us with timely and affordable solutions when necessary. The folks at I-M Technology have always been thorough, friendly and professional in servicing our IT systems. I highly recommend them for your IT needs.
Nonprofit
Easy and Painless Transition to the Cloud

We have been using I-M Technology as our IT Company [since 2009]. Over this time period it has been a pleasure to work with them. They are easy to work with and very knowledgeable in regards to both hardware and software. ...[T]hey helped us make the transition from local Exchange to Microsoft Office 365 online for Business with SharePoint. We have found that having our email accessible from any device anytime has been an immense help to our business and having the latest MS desktop suite means that everyone in the company is running the same version. SharePoint was the driving force for our move. It has given us better project management and employee collaboration from office staff to the techs in the field. I-M Technology made transitioning to the cloud easy and painless. It truly has been the best move for our company.
Construction Contractor
Responsive and Knowledgeable

The staff at I-M Technology has been very responsive and really great. You just put in a service request for something and if it's something where we actually need someone to show up here then they'll show up pretty much whenever we need them. If it's something of a remote diagnostic that's pretty much instantaneous.

I-M Technology's staff are very responsive and knowledgeable. Every business has their specialty. Whether you make pizza or install alarm systems, you can't be a jack of all trades and as things become more and more specialized and knowledge intense, you need someone who similarly embraces their industry's technology, grows with it, and evolves with it, then they can be the provider that somebody like us needs. Whenever there is someone that needs similar services that we get, I am more than happy to suggest that they give I-M a call and add them to their list of vendors.
Security Firm
Helped Us Comply With New Regulations

[We have] been practicing law for the past 40 years with 50% concentrated in real estate. We recently had to conform to the new ALTA'S Best Practice regulations, which required major updates to our computer programs, so we brought I-M Technology onboard to start implementing all of the technology that was required. Partnering with I-M Technology has allowed us to take the necessary steps to conform to the new regulations allowing us to be certified to work with all the lenders.

I-M Technology has enabled us to implement the RESPA regulations into our business and they've worked with us so that it was a smooth transition. We needed all new computers, encrypted email, and data privacy updates. They came highly recommended and were able to come in and do all that with very little down time for us which was key because we couldn't afford to be without computers. They updated all of our technology, and knowing that we have someone knowledgeable at a click of the mouse if we have an issue, it's worked out wonderfully.

I can just send a service ticket and within a matter of minutes they're responding to me that the ticket is being worked on. Just working with everybody, it's very efficient. We're able to get everything done quicker, it certainly improves our overall production.

We're very comfortable working with I-M Technology and always are willing to refer whenever we can.
Law Office
Helping Us Be More Competitive

[We are] a non-profit residential program that provides housing to adults that have histories of mental illnesses, addictions, poverty, and homelessness. We have 55 people who live here and about 33 employees. We use technology to communicate internally and externally, we use it for documentation, record keeping, financial records, data specific to funding, and we store our grants on it.

The thing that I like the most about I-M Technology is that we know everybody, so when we have an issue we're speaking with people we've met and we know and feel confident with. We're kept informed of possible options for either replacing our computers or improving/enhancing what we're doing and all of the services that I-M offers.

Working with I-M since 2005 has created efficiency [here] because we didn't really have any before. I mean people were just writing on paper. We were using computers like a typewriter before we had I-M. It has certainly enhanced our efficiency, no doubt about that.

By partnering with I-M we can be more competitive with other agencies that do similar things. We can communicate in ways that funders or donors want to see. It gives us credibility to be able to use the tools we have to communicate in a professional way.
Nonprofit
Saves Payroll Dollars

I would strongly recommend I-M Technology. When I first got the estimate of the cost to have a company come in and basically outsource what used to be handled in-house (but wasn't working), it was more than I would've expected. What I've found however is that it's the best money that I spend each month. It keeps things running; it keeps my payroll down because I don't have to have additional staff people. I have recommended I-M Technology to other people and when they call me and say that they're not so sure about this, I say step off the diving board, I think you'll be really happy.
Naturopathic Healthcare Provider
Understands Business Problems

I have been a customer of I-M Technology for over six years. I find their service to be invaluable because they are always very fast in fixing any problems, and follow up afterwards to make sure the problem is indeed fixed. Happily, they are very pleasant to deal with. The biggest reason however that they receive my highest recommendation is that they are always proactive when it comes to preventing problems and creating solutions to make my office run more efficiently. I have never lost data or suffered a security breach because of the systems they have set in place.

When I moved my office they were there to help me design how I wanted it to work. In the event of a big storm coming, I always receive an email or phone call with the best way of protecting my server and computers.

The most value they consistently deliver comes from the time they take in listening to me talk about my law practice, sometimes coming up with more efficient, less costly ways of doing things. For example, my staff was overworked answering phone calls, and I did not want to hire another person, so for a few months we were paying a phone answering service. As a businessman, Stuart was able to understand my issues, and told me how he had solved them for his company, and I ended up purchasing a phone system like his, which has saved me far more money than its original cost.
Law Office
Our Latest Customer Satisfaction Score
We're proud of our service and we want you to know upfront what our clients think of us right now.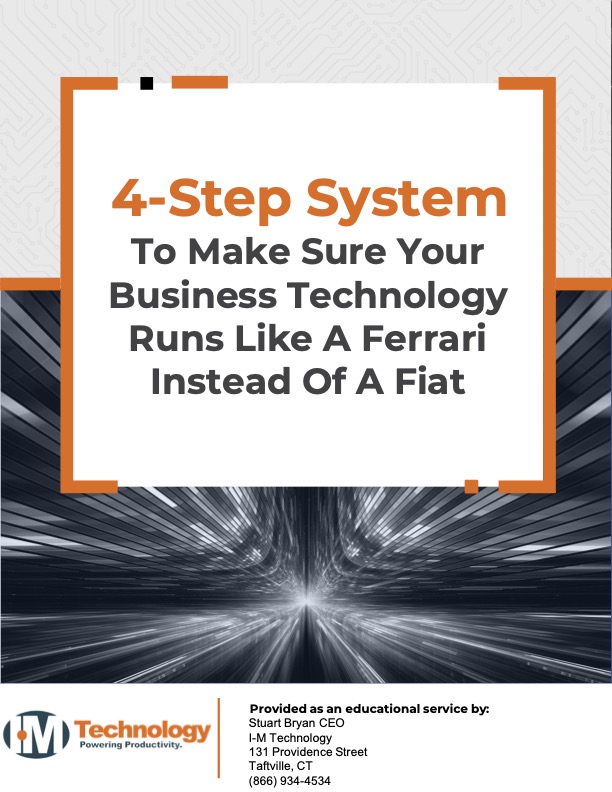 IN THIS FREE REPORT YOU'LL DISCOVER…
The EXACT 4-step system you need to know if you want to make sure your business' technology runs like a Ferrari and NOT like a Fiat…
PLUS… You'll also uncover the 4 crucial layers of managing your business' technology so that you don't just own and operate a business, but actually create a THRIVING business today.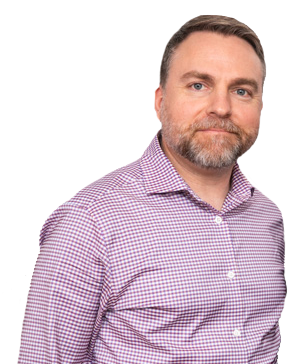 Get the world class IT support you deserve
I-M Technology provides world class IT support to organizations across Southern New England.
Schedule an appointment today to see how we can assist in YOUR success.