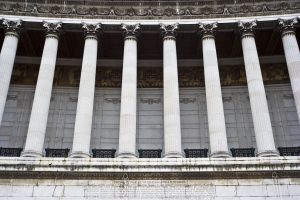 As technology permeates everyday life, multiple kinds of information security regulations and acts have been created to protect personal and financial data. Industries dealing in and maintaining these kinds of records are thus compelled by law to guard the integrity of the data.
These regulations, though sometimes challenging for businesses, generally improve and promote the overall information security for not only their clients, but for the businesses themselves. Perhaps the real hurdles are parsing these regulations and determining which apply to your organization.
Legal Compliance and Information Technology
Here are a few of the most common regulations, particularly those that we encounter here at I-M Technology:
HIPAA (Health Insurance Portability and Accountability Act)
HIPAA contains several healthcare information aspects, but one key component is privacy protection granted to patients. This impacts any organization dealing with health information.
PCI DSS (Payment Card Industry Data Security Standard)
Sometimes just called PCI, PCI DSS refers to a whole suite of regulations governing credit card information and designed to reduce fraud. Any organization that handles credit card information must comply with PCI DSS.
DFARS (Defense Federal Acquisition Regulation Supplement)
External Department of Defense contractors and suppliers must comply with DFARS, a wide array of regulations required to work with the DoD. Of note are cybersecurity mandates put in place to protect the US defense industry.
SOX (Sarbanes Oxley Act)
SOX mandates that public companies maintain their financial records for at least seven years. This impacts not just the public companies, but any CPA doing business with one.
There are myriad more regulations beyond this. Others may be enacted at the state or local level. Here in Connecticut, for instance, in municipal organizations, all electronic documents converted from paper records must be digitized in a lossless format in a specific resolution to preserve the original integrity.
The first step is to understand the nature of the information present within your organization. Then, you will be able to determine which regulations apply to you. A trusted IT consultant can help you assess your IT infrastructure and navigate the next steps to protect both your company's and your clients' information.
When combined with top to bottom organizational policies, technology solutions will help you comply with the law and safeguard one of your business' most important assets. The repercussions for poor or lackluster safeguards can result in catastrophic breaches for you and your clients, not to mention significant legal penalties.
Are you a business owner in southern New England and in need of an IT security and performance consultation?
Fill out this form below to sign up for a FREE assessment from I-M Technology. We're experienced in helping our clients comply with HIPAA, DFARS and more.