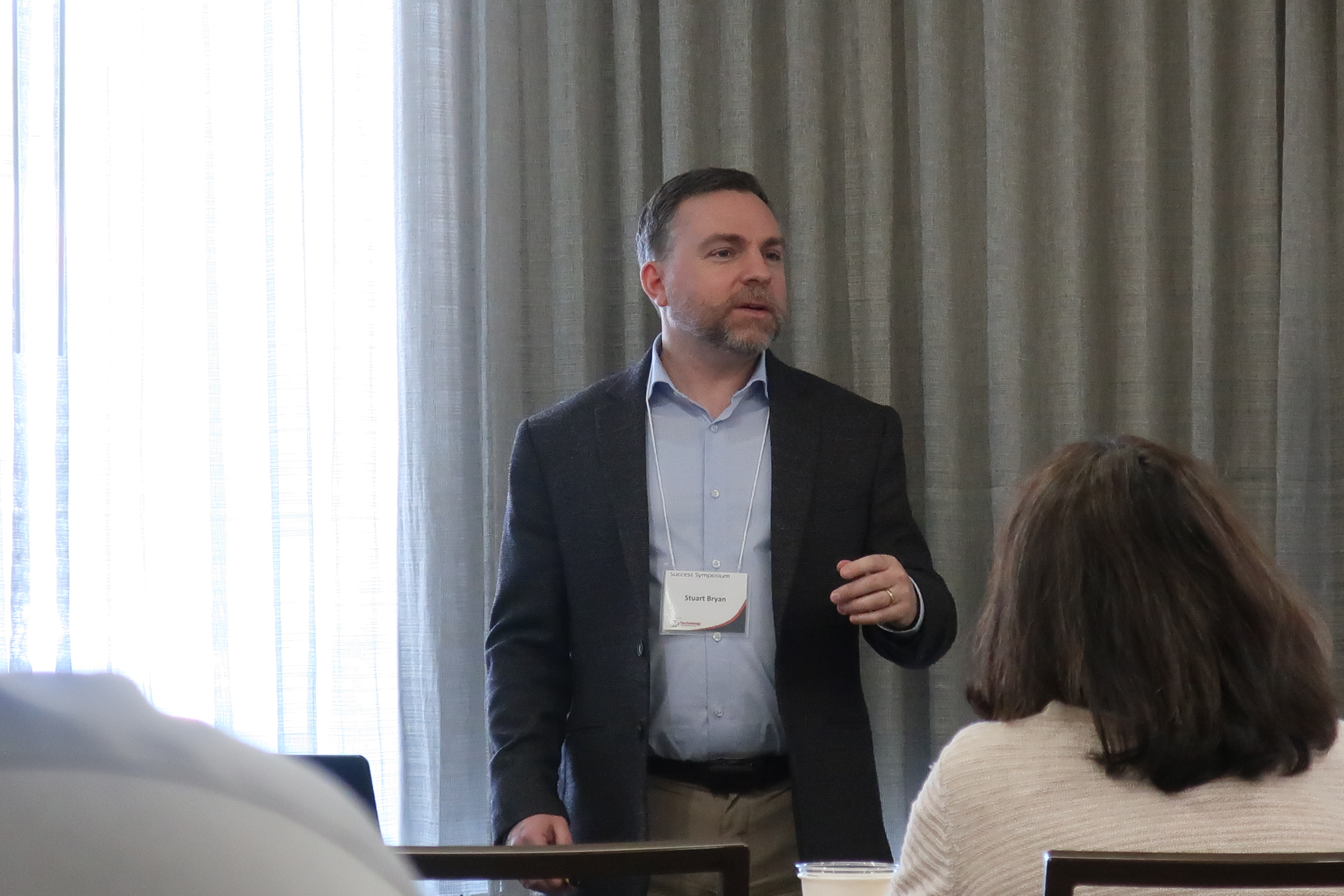 In May 2019, I-M Technology hosted an event called Success Symposium in Norwich, CT wherein we invited local business leaders to share their unique expertise to build a successful business. Over the course of the day, more than 30 attendees engaged with the speakers on topics ranging from digital marketing to human resources.
Our own president, Stuart Bryan, gave a talk about IT management called Breaking Away From The Herd, illustrating the efficacy of ascribing the proper value to IT services in one's business.
Assign the Correct Value to IT
Two of the most common kinds of expenses are the cost of goods sold (COGS) and selling, general and administrative expenses (SG&A). Selling, general and administrative expenses are costs involved in operating the business, such as marketing, salaries, utility bills and other general costs. Cost of goods sold, on the other hand, is the expense most directly involved in creating revenue. It represents the costs of producing or purchasing the goods or services sold by the company.
More than a few businesses likely place IT in a supplies budget, or SG&A, but could you run your business or deliver your products and services without IT? The answer for most businesses is probably not. Accounting for IT as a cost of goods sold ascribes a powerful value to IT as part of the driving factor in creating your revenue, as it should be.
With this in mind, you MUST:
Account for the fully burdened labor cost for every new hire
Calculate the full cost of IT delivery
Assign those costs in COGS, not SG&A, if you cannot deliver your products or services without IT infrastructure
Have a defined IT budget
Define How IT Support Should Be Delivered
Imagine your partner had only dated two people before you. The first person kicked their cat and the second stole their wallet. To be the best significant other your partner ever had, you just have to not kick their cat or steal their wallet.
The question of this exercise is this: Do you know what great IT support looks like or do you only know what bad is and try to avoid that? You have to determine exactly what you're actually looking for. If you don't know, then any result is acceptable (or at least a partner who doesn't kick your cat). Ask your IT provider: What does success look like?
The Services You Should Demand From an IT Support Partner
As a business owner, you want your IT services delivered from "proactive" to "reactive, with defined edges and in the correct priority.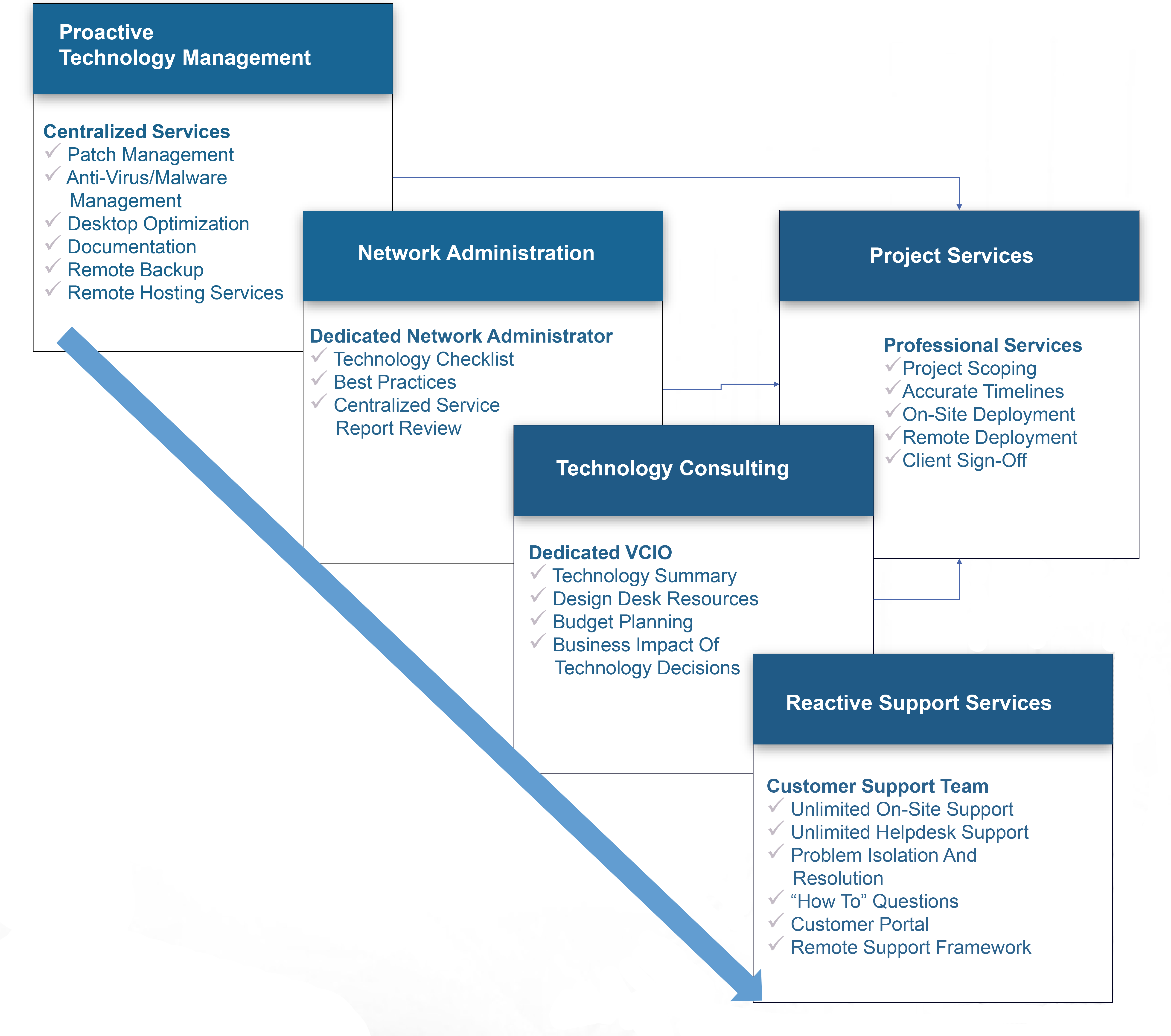 Proactive Technology Management
Patch management
Anti-virus / Malware management
Desktop optimization
Documentation
Remote backup
Remote hosting services
Network Administration
Technology checklist
Best practices
Centralized service report review
Technology Consulting
Technology summary
Design desk resources
Budget planning
Business impact of technology decisions
Reactive Support Services
Unlimited on-site support
Unlimited helpdesk support
Problem isolation and resolution
"How To" questions
Customer portal
Remote support framework
A Catalyst for Growth
As Bill Gates said, "Automation applied to an inefficient operation will magnify the inefficiency." It's worth keeping in mind that top line revenue matters less than bottom line revenue and payroll doesn't solve all problems.
You don't need to kill trees and kill time; entering duplicate data entries across multiple applications with manual workflows. Today, less staff can accomplish more without performing menial tasks utilizing single data entry and automatic workflows with a central Line of Business application or application ecosystem.
A best in class LOB application is less important than the most comprehensive –there's no value if the application cannot perform the functions your business needs of it. It's important to implement a company-wide roll out and to constantly identify and remove friction points as everyone adopts the new applications and procedures.
To Recap The Lessons Learned:
Move your IT our of SG&A into COGS and have an IT budget
IT support must be delivered from "proactive" to "reactive" with insightful strategic advice
Implementing a LOB application or application ecosystem can boost efficiency and become a competitive advantage
When you give your IT services their full weight, define the IT services you truly want from your provider and insist that they deliver those things, your technology infrastructure becomes a catalyst for growth.
Get The PDF For FREE
Want to get the original fully illustrated presentation from Success Symposium? Fill out this form to get the FREE business IT  presentation from I-M Technology sent straight to your email!